#1 Stun Gun for Overall Features/Price
ShockTEK Defense TEK-8 Stun Gun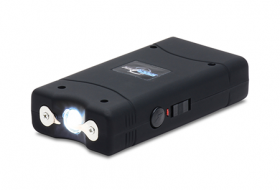 Price: Approx. $65
Includes: TEK-8 Stun Gun, Nylon Case, Charging Cord & 90 Day Warranty.
00000
Price: $65. We HIGHLY recommend the
ShockTEK Defense TEK-8
stun gun. Please read below to see how and why we rated and reviewed this stun gun so well.
The ShockTEK Defense TEK-8 is the highest quality stun gun that we've ever tested in the under $100 price range. With so many cheap foreign manufactured stun guns on the market, its becoming extremely difficult to locate a quality stun gun anymore. The TEK-8 is the best bang for the buck stun gun that we've EVER tested. Other comparable stun guns that we've tested are usually priced between $250-$600+. Don't be fooled by its compact size, this is one SERIOUS stun gun. You do NOT want to be hit with one of these, thats for sure!
ShockTEK Defense TEK-8 Stun Gun Product Demo Video:
Maximum Voltage Test -
Maximum Average Voltage (Button Depressed for 3 seconds, battery is FULLY Charged) – 8,361,540 Volts
Reliability -
This stun gun held up to 100% of its claims during our reliability and real-world tests. We ran into no problems and we are confident that you will find the same reliability as well.
Battery Life -
The battery on this stun gun is AMAZING. When ShockTEK Defense contacted us, they said we would be shocked at the battery life. Even after carrying this stun gun with us for a few weeks, and using the flashlight daily, it always had enough charge to be able to test that the stun gun works properly. We cannot stress enough how important it is to have a long battery life on your stun gun. They use a Lithium Ion battery in all ShockTEK stun guns, so when you do charge it, the charge time is short and we think you'll probably only have to charge it for 1-2 hours once every 2 months.
Warranty -
The standard warranty that ShockTEK Defense offers is a 90-Day FULL warranty. However, I have heard that ShockTEK will cover warranty requests even longer in some situations. When they sent us their package, there was a warning that if we didn't follow a specific procedure that the warranty could be voided so make sure to follow their step-by-step warranty process.
Voltage Stabilization Test -
Average Voltage Stabilization Test (Button Depressed for 10 seconds, battery on FULL charge) – 6,291,421 Volts
Case/Holster -
I wouldn't say that the nylon case that they include is made from the highest quality materials, but it does get the job done.
Full Charge Time -
Since this stun gun has a Lithium-Ion battery, ShockTEK recommends to charge it for 2-3 hours once every month. We feel that realistically you could charge this stun gun for 1-2 hours once every 2 months. The charge time is excellent since this unit is equipped with a Lithium Ion battery.
Flashlight Brightness -
The flashlight is VERY bright on the TEK-8, we have no complaints on the brightness of the flashlight.
Overall Quality -
The ShockTEK TEK-8 is a VERY high quality stun gun. Every part of this stun gun is from the highest quality components besides the included nylon case. The nylon case gets the job done and for the overall price, you simply cannot beat the TEK-8 stun gun.
Overall Value -
From a perspective of overall value, you simply will NOT find a better quality product for a more affordable price. This is the reason why we rated the ShockTEK Defense TEK-8 Stun Gun as the highest quality stun gun on the market today. You will be amazed by the attention to detail, voltage, flashlight and customer service that ShockTEK provides.
Conclusion -
We wish all stun guns were produced like the TEK-8. From the quality of the components to their outstanding customer support, you simply will not find a better company to serve your self-defense needs. They are truly an exceptional company and we look forward to testing more and more of their products in the future. Keep up the good work guys!