#1 Highest Voltage/Brightest Flashlight Stun Gun
ShockTEK Defense TEK-12 Flashlight Stun Gun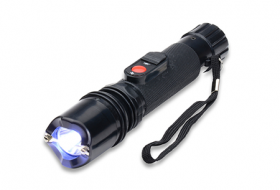 Price: $104.99
Includes:
- Shocktek Defense TEK-12 Stun Gun
- Charging Cord
- Nylon Holster
- TEK-12 Specific Operating Manual
- 90 Day Warranty

00000
Price: $105. The ShockTEK Defense TEK-12 stun gun is the highest voltage stun gun we've ever tested. We highly recommend the TEK-12 to anyone looking for a stun gun/flashlight all-in-one unit. Read below to see why we rated the TEK-12 so highly.
Description –
The ShockTEK Defense TEK-12 is BY FAR the highest voltage stun gun we've EVER tested. The sound that this stun gun makes while firing is unbelievable. All you can hear is LOUD cracking and popping sounds from all the serious power that this stun gun puts out. The most unbelievable part for us is that this unit is actually this powerful and still costs less than $100 for the quality that everyone knows about from ShockTEK Defense. Not only is this the highest powered stun gun we've ever tested, but the flashlight is extremely bright. This is a great product from a great company at an affordable price. The best part is that it looks like a flashlight, so you can take the dog for a walk at night and always be protected. If you're in the market for the highest powered stun gun with the brightest flashlight, this is it, the ShockTEK Defense TEK-12 is finally here!
Maximum Voltage Test -
Maximum Average Voltage (Button Depressed for 3 seconds, battery is FULLY Charged) – 12,261,792 Volts
Reliability -
This stun gun held up to 100% of its claims during our reliability and real-world tests. We ran into no problems and we are confident that you will find the same reliability as well. The TEK-12 has been on the stun gun market since spring 2013 and our test model is still functioning like new as of April 2023 with no issues.
Battery Life -
The battery on this stun gun couldn't be better. All of ShockTEK Defense's products use lithium ion batteries which allows the user to achieve maximum power along with maximum battery life. The battery life on the TEK-12 usually lasts us between 3-4 months per charge. This is the stun gun that we personally carry on us at all times since this is tied for the #1 spot of the best stun guns we've ever tested.
Warranty -
The standard warranty that ShockTEK Defense offers is a 90-Day FULL no-questions asked warranty. However, we have heard from some of our visitors telling us that ShockTEK has made exceptions beyond the warranty date depending on the scenario. Our personal experience with ShockTEK Defense has been nothing short of exceptional.
Voltage Stabilization Test -
Average Voltage Stabilization Test (Button Depressed for 10 seconds, battery on FULL charge) – 9,793,460 Volts
Case/Holster -
The TEK-12 comes with a nylon holster that gets the job done with no issues. It is easy to put the stun gun in/out of the carrying holster without any issues. We have no complaints on the holster and has held up fine in the past 3 years of ownership.
Full Charge Time -
As per the included instructions that are included with the TEK-12 package it says this exactly (in quotes below):
"Once per every 2 months, charge your TEK-12 for 2 hours. This will keep the battery at full charge. If you use your flashlight often, charge your TEK-12 for 2 hours once every month. DO NOT overcharge beyond 2 hours as this can cause shortened battery life. The TEK-12 can hold a charge for over a year, but to be safe and maintain battery longevity we recommend the above charging methods. If you live in a colder climate, charge the unit for 2 hours once per month"
Even though we never experienced any low battery signals from charging our unit once every 3-4 months, it's probably a good idea to follow by the manufacturers instructions. The battery life is excellent on any of the ShockTEK products that we have used.
Flashlight Brightness -
We are unsure on the exact lumen output, but we can assure you that the flashlight is EXTREMELY bright and gets the job done. In future tests we will include a lumen meter picture that shows the exact lumen output.
The TEK-12 definitely had the brightest flashlight output of any stun gun we've ever tested. You will not be disappointed, it gets the job done!
Overall Quality -
Every ShockTEK Defense product that we ever tested is made from the highest quality components. The overall quality seems to feel on par with flashlight stun guns that are priced between $300-$600. The quality is definitely there and you WILL notice/feel the difference.
Overall Value -
We can't say enough positive things about the TEK-12. From all of its high quality features, to the warranty and the customer support that you receive when dealing with ShockTEK, you will not be let down. We always receive emails from happy customers of ShockTEK because of the way they treat their customers even after the sale has been made. In a market full of chinese products, with ShockTEK Defense being the exception, you simply cannot go wrong. This is why we will continue to say positive things about their brand. If they ever decide to let any customers down or decide to change their business practices, you can be rest-assured I PERSONALLY will be the first one to let everyone know. However, with the solid reputation that they have built, we don't see anything bad happening anytime soon. ShockTEK was originally a dealer only company that distributed their products through other vendors but it seems they are moving their business to sell their products directly online as well. We feel that the overall value of this stun gun is beyond anything under $300 without a doubt. Keep in mind this is the personal stun gun that we have used for years now. Even though their TEK-8 is a great stun gun, we personally feel that the TEK-12 is the ultimate choice when looking for a stun gun.
Conclusion -
The TEK-12 is a solid product that will last for years without any issues. You simply cannot go wrong with the power output, flashlight brightness and overall battery life. In the past 3 years of ownership, this stun gun has never let us down and continues to function beyond what the manufacturer claims. The TEK-8 is rated as the #1 best stun gun on our site due to the overall price/value ratio. If you can afford the additional ~$30 for the TEK-12, we say go for the TEK-12 instead, you will not be disappointed.
Overall Price/Value Ratio