High Quality Compact Stun Gun
Vipertek VTS-880 Stun Gun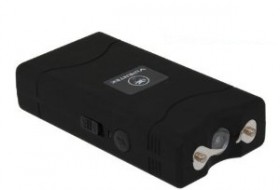 Includes: Vipertek VTS-880, Built-In Charger, Nylon Holster & Instructions.
00000
The
Vipertek VTS-880
is an inexpensive high quality stun gun. It is not often that you see a high quality and inexpensive product all in one.
Description –
The Vipertek VTS-880 was one of the very first Vipertek models that we encountered in the stun gun market. This has always been an inexpensive stun gun. While the design of this model seems to be used by other manufacturers, the internal parts are not identical. The quality of the VTS-880 is exceptional compared to its rivals. While other manufacturers sell products that look and appear similar, they are not built with the same quality standards.
Claimed Voltage –
We have seen the claimed voltage vary over the years from just 5,000,000 Volts to 50,000,000 Volts. It is important to understand that the varying voltage is due to distributors also coming up with these claims. Do we believe that this unit has 5,000,000+ Volts? Absolutely not, because most stun gun models have between 15,000 – 40,000 volts. Regardless of the wild claims, this stun gun will put someone down immediately without hesitation.
Reliability –
The VTS-880 is one of the most reliable stun guns we've ever tested. We actually have a model of this stun gun from 2012 (now 2016 as of writing this updated review) which still holds a charge today. We have another VTS-880 that the flashlight has recently gone out on, but that seems to be the weakest link is the LED flashlight. While the flashlight worked flawlessly for 3 years, we think that is great since a flashlight on a stun gun should be considered a secondary feature. Our VTS-880 has also been known to hold a single charge for months at the time. We recommend charging it at least once a month just like the manufacturer recommends just to ensure that your stun gun will fire when you need it most. We have never experienced a single VTS-880 stun gun that will no longer fire even after years of use. It is an exceptionally reliable product overall.
Battery Life –
As we mentioned above, we have a VTS-880 that is still 100% functional as of 4 years at the time of writing this updated review. To have the battery last as long as 4 years on a product which retails for less than $20 gets an A+ in our book. While our VTS-880 has held a charge for months on a single charge, we recommend charging yours at least once per month.
Charging your unit once per month ensures that the battery will be maintained properly and will have power when you're ready to use it. We recommend that every long battery life stun gun be charged at least once a month regardless of the manufacturers instructions.
Per the manufacturer's instructions for the Vipertek VTS-880, it states than the first time you charge the stun gun (initial charge) should be for 6-8 hours. It also mentions not to overcharge the battery or it will shorten the battery life. It further mentions that once a month you should charge the unit for 1 to 2 hours to keep the stun gun fully charged and ready to go.
Warranty –
According to our research from what have seen online at multiple sources, the Vipertek VTS-880 has a lifetime warranty. We also did have a few questions for Vipertek and also asked for a replacement set of instructions and they answered our questions within 24 hours and mailed a replacement set of instructions at no charge to us. From us contacting them twice, they have been quick to reply and provide quality customer support.
Case / Holster –
The holster for the VTS-880 is a high quality holster for the price. While we did have one holster that wasn't perfect, i'm sure they would replace it if we complained about the quality. The only thing to note regarding the holster is that it holds the stun gun very firmly. While this is a good thing, you should be careful when putting the stun gun in/out of the holster that you do not accidentally shock yourself. There is also a belt loop on the holster to pass your belt through.
Full Charge Time –
As per the manufacturer's instructions you should charge your VTS-880 for 6-8 hours on the initial charge and then charge for 1 to 2 hours per month to keep the unit fully charged.
Flashlight Brightness –
This is our biggest complaint about this model. The VTS-880 has a single white LED and it doesn't pack enough power to light things up like you would expect. However, you have to keep 2 things in mind regarding this. First, a flashlight is a secondary feature on a stun gun. Lastly, this product costs $20 or less, you cannot expect for a unit that was designed as a compact unit to perform like a more expensive flashlight stun gun with multiple LED's.
Overall Quality –
The quality of this stun gun is not necessarily in its external parts, but it's more about its internal parts, which make it as reliable as it is. It does have a nice rubberized texture so it will not slip out of your hand easily and the holster is high quality for the price.
Overall Value –
We measure the value of anything based on its quality and features based on a specific price point. The Vipertek VTS-880 ticks all the right boxes when comparing quality and features to its price. As long as this product remains under the price point of less than $50, we definitely see the value.
Conclusion –
The Vipertek VTS-880 has surpassed our expectations in many different ways. We have several 4 year old VTS-880's that perform flawlessly without any issues at all. The holsters are still holding together, the flashlights still work, the unit still holds a charge and most importantly the stun gun continues to fire without hesitation. If you are looking for a quality stun gun for $20 or less, you'll be pleasantly surprised with just how cool this little stun gun is.
Overall Price/Value Ratio